Explore the meeting rooms

Our meeting rooms are perfect for anyone looking for meetings spaces within the city context; this aspect is one of the strengths of Hotel America, located in Via Torre Verde, in the historic center and perfectly served by the public transport services.

All the guests had the pleasure of enjoying an elegant environment, easily reachable and with the right atmosphere for successful professional meetings.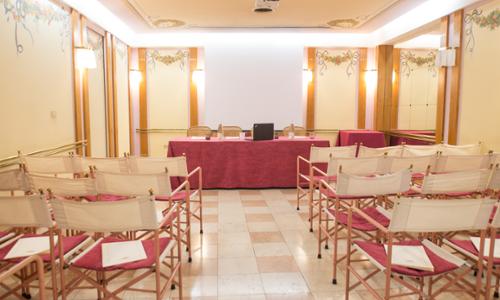 Important meeting?
We have our "Hall of Mirrors", perfect to accommodate up to 40 people theater style, equipped with a screen and projector.
With a delightful terrace overlooking the city, it allows you to catch your breath in moments of pause, enjoying natural light during the whole time of the meeting.
Designed for business meetings, presentations, group interviews or office refreshments!
Kissed by the natural light of the sun, it is the room where you would like to follow your business meeting, avoiding going to sit in dark undergrounds and equipped only with artificial light!
With a terrace that overlook at the city, it is the room where everything becomes more beautiful!
Capacity: up to 40 people
Equipment: projector, audio system, foldaway sheet, flip chart, on request folders, pencils and office accessories, free WiFi.
MAXIMUM OCCUPANCY DURING COVID PERIOD: 26 people with distance as per legislation and 3 speakers.
MAXIMUM OCCUPANCY DURING COVID PERIOD: 26 theater-style people with distance as per legislation and 3 speakers